All businesses, big or small, require a funding source of some kind. Whether you get the money needed via a company savings account, a personal money stash, or small business loans, it's stillimportant to have a favorable credit score. However, due to the unpredictable nature of running abusiness, it's not always easy to maintain a positive credit rating without a little help. Sadly, a negative or mismanaged credit profile can make financing a business very difficult.
Regardless of your current financial situation, being proactive about your company's creditrating is extremely important. Since hindsight is 20/20, it makes perfect sense to get ahead of the game while you still can. Even if you have great credit, the right strategy can only make things better. Especially for budding businesses that have little to no corporate credit, using a business credit building program can make a significant difference in what your venture is worth.
To build business credit quickly and legitimately, a few effective strategies are often required.Unfortunately, few business owners know where to start. Aside from paying bills and vendors on time and requesting very little money from creditors, most companies rely solely on their earnings to cove expenses, expansions, and other incidentals. While that method may work for some, temporarily, it's bound to eventually wane in effectiveness, especially as inflation and other monetary concerns takes a toll on the company.
 

Top 6 Ways

to Look Appealing to Creditors, Vendors, and Customers In Order To Build
Business Credit Quickly:
When running a business, your financial activity is always available to vendors, creditors, investors, customers, and stockholders alike. As such, any negative marks on your credit report may drive potential partners away.Furthermore, bad credit can make it impossible to get the unsecured corporate line of credit you need to succeed in your industry. Without proper funding,you could face foreclosure or worse.
To look as appealing as possible to those in charge of your loan eligibility and market relevance,it's important to remember the following: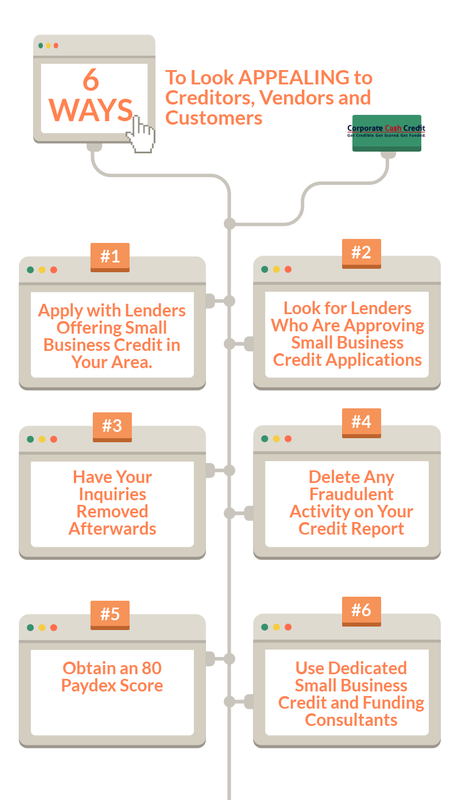 #1.

Apply with Lenders Offering Small Business Credit in Your Area:
Most lenders want to support local businesses, which can be both an advantage and disadvantage depending on how you look at it. When financing a business, it's vital that you first apply with lenders in your own geographical area. This not only increases your chances of getting an approval for small business loans, but it may also help you build partnerships that could remain established throughout the life of your venture. The right credit building program will introduce you to creditors who typically finance companies in your location.
#2.

Look for Lenders Who Are Approving Small Business Credit Applications:
By applying only with willing creditors for an unsecured corporate line of credit, you reduce your risk of being denied, or worse, racking up too many hard inquiries on your report. Since inquiries can reduce your credit score, it's perfectly reasonable to seek a business credit building program that has a team of experts who know which lenders are approving applications and which ones are less likely to vote yes on your behalf.
#3.

Have Your Inquiries Removed Afterwards:
Regardless of your small business loan application success, it's important to work towards removing the inquirie you obtain throughout the process. While doing so could require severalweeks to complete, the best business credit building program will understand how essential it is to get this done as soon as possible. In fact, the sooner you have hard inquiries removed, the better your chances of achieving progressively higher loans each time you reapply.
#4.

Delete Any Fraudulent Activity on Your Credit Report:
To look even more appealing to lenders, customers, investors,and vendors, allow the business credit buildin program experts to delete any fraudulent or questionable information from your report. While you may have to use another program to get this done, it will certainly make you more credit-ready. Be sure to have your credit report analyzed carefully to find out if this step is needed.
#5.

Obtain an 80 Paydex Score:
Paydex is a Dun and Bradstreet (DUNS) term used to describe the numerical score given to abusiness as that business's corporate credit score. It represents the promptness with which that business makes payments to creditors and vendors. Similar to consumer FICO scores, a Paydexis used primarily for commercial enterprises and determines creditworthiness. With the right business credit building program, you should be able to get approved for significant funding without reaching an 80 Paydex. However, that program should be designed to help you achieve an 80 Paydex eventually, at which time you should be able to reapply for more financing after removing the inquiries on your report.
#6.

Use Dedicated Small Business Credit and Funding Consultants:
Regardless of how much you think you know about financing a business, it's still imperative thatyou use knowledgeable coaches to help you navigate the complicated process of building business credit quickly. Credit and funding coaches can help you with several things, including but not limited to:
Finding useful trade credit lines.
Helping you set up useful corporate accounts for those trade credit lines.
Achieving an 80 Paydex as quickly as possible.
Becoming approved by multiple lenders.
Understanding how much funding you can get with each application.
Completing the process of getting credit-ready.
Removing hard inquiries from your report.
Beginning the second (or third) round of financing/.
Assisting with creating a custom corporate identity kit.
Developing a proven business and/or marketing plan, as well as a financial projections template.
Reasons

to Build

Business Credit Quickly
  -> To build business credit quickly, it's important to get the process started as soon as possible.Get enrolled in a business credit building program immediately to gain the credit rating needed to obtain the small business loans you need to keep your company afloat, pay for expansions, buy the inventory requires for successful operations, or whatever else you may need.
  -> The longer you wait to obtain an unsecured corporate lineof credit, the harder it will be to fix the negative marks on your credit report. Don't be afraid to ask questions if you're unaware of howthe process works. The right business credit building program will have a team of expert representatives that can help you understand what's required and what's to be expected from your efforts.
This article was written for Grand Teton Professionals for Corporate Cash Credit. For Credit Repair Solutions and Support.Please CONTACT US at 203-528-0587 or EMAIL US at Support@CorporateCashCredit.com. For Media Relations, please contact Misty.Burrell@GrandTetonProfessionals.com.
Keywords: build business credit quickly, unsecured corporate line of credit, business credit building program, loans
for small business, financing a business, small business loan