7 Ways to

Build Business Credit Quickly
Businesses don't start out with perfect credit scores. That's why it's so important to build corporate credit and to do it as quickly as possible. Companies without adequate credit ratings find it very difficult to conduct business in this economy.
Unfortunately, building business credit is not an easy task. The process is often long and slow, involving months, or even years, of demonstrating steadfast financial responsibility. To build corporate credit quickly, it takes some industry knowledge and a well-planned strategy. In addition, it's always a good idea to apply for financing before your business is in dire need of money. Lenders tend to favor situations wherein the company requesting credit is not overextended or financially unstable. However, without good credit, that time may never come.
Even under less than ideal conditions, it's still possible to get adequate financing. Still, it never stops being important to build corporate credit along the way. So, while your credit scores build naturally, work on becoming more attractive to lenders by using the following tips and tricks: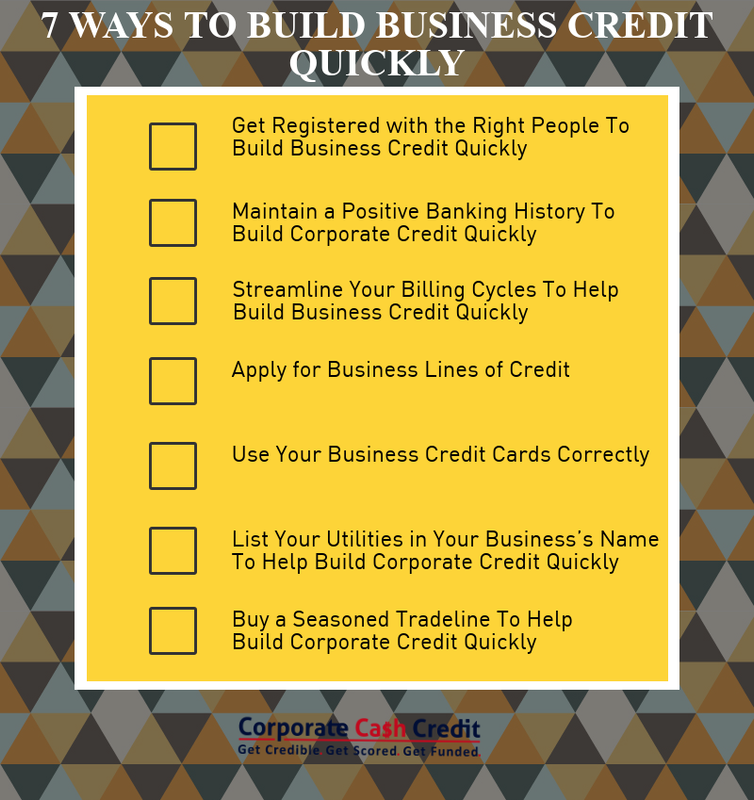 NO.1.  Get Registered with the Right People To

Build Business Credi

t Quickly:
By registering your company with major business credit reporting agencies, your credit history will grow substantially. Dun and Bradstreet (DUNS) registration is very important, but so is registering with Experian, Equifax, and TransUnion. Usually, registration is free and can be done quickly online. Be sure you have your corporation's Employer Identification Number (EIN) ready to go before you start. Each respective website will require that information. Keep in mind that neglecting to register with the major credit reporting agencies means there is no official track record of your business credit utilization behavior.
NO.2.  Maintain a Positive Banking

History To Build Corporate Credit Quickly:
Do your best to maintain a good-looking banking history if possible. This includes keeping consistent balance averages, making regular deposits, and having zero "insufficient funds" reports on your account. This sort of behavior bodes well for you, especially when you start trying to qualify for a business loan. In the meantime, speak with the branch manager to discuss all your options regarding business credit cards and lines of credit you may be eligible for right now. Having a diverse credit portfolio is ideal, but only if you can manage it properly.
NO.3.  Streamline Your Billing Cycles To Help Build Business Credit Quickly:
It may be helpful for you to make your regular billing cycles line up. Simply request that your suppliers change your billing cycle to match up with the others. Afterward, be sure to register the new billing cycle with the major credit reporting agencies. Under a well-organized billing cycle, you receive the supplies you need and then pay for them 30-60 days later. Many vendors actually like doing this for their clients. That's because it helps them demonstrate consistent revenues and build corporate credit of their own more quickly.
NO.4.  Apply for Business Lines of Credit:
When you apply for corporate credit cards and small business loans, you not only diversify your credit profile, you also create a credit history that can help you build corporate legitimacy through responsible use and timely payments. Work with a team of knowledgeable professionals to determine which lenders in your area are most likely to qualify you for financing. This saves you time and prevents frustration, not to mention saves your credit report from having too many hard inquiries on it.
NO.5.  Use Your Business Credit Cards

Correctly:
Simply having credit cards and getting approved for small business loans is only half the battle. Using them correctly is a great way to build business credit quickly. Make purchases with your credit cards regularly and always pay back what you owe on time. Simply paying the minimum balance is fine, but it will improve your creditworthiness a lot more if you pay the balance in full when you get the statement. Consistent credit card repayments and small business loan installments help to establish quick credit histories that get better with time.
NO.6.  List Your Utilities

in Your Business's Name To Help Build Corporate Credit Quickly:
A significant number of open, revolving credit accounts on your profile will work in your favor, especially if you pay the balance on time and in full each month. For example, by registering your phone or utilities under your business name and EIN, you establish a positive credit utilization pattern that makes your scores grow more quickly. In fact, you can do the same thing with vehicles, property leases, and equipment to get the same result.
NO.7.  Buy a Seasoned Tradeline To Help Build Corporate Credit Quickly:
The acquisition of a high-quality seasoned tradeline through a reputable dealer can help boost your business credit rating very quickly. It's important, however, for you to buy one that best suits your unique credit situation. Have your credit profile examined and analyzed by an expert to find the most effective option and be sure to contact the credit reporting agencies afterward to ensure the addition is being utilized correctly.
Additional

Corporate Credit

Building Tips:
Work hard to avoid any derogatory marks on your business credit report. Remember that it is much more difficult to build a positive credit rating than it is to ruin it with poor financial choices. Conversely, it's much easier to maintain a good credit rating than it is to fix it once it's damaged.
Although some of the steps mentioned above won't provide you with immediate results, they will increase the speed at which your credit scores grow. Working with a professional financial services team can help you devise a long-term plan to build corporate credit quickly and keep it where it needs to be. In the meantime, avoid credit offers that ask for a personal guarantor, as those types of loans use your personal credit report and do nothing to help establish your business credit.
This article is for Grand Teton Professionals for Corporate Cash Credit. For Credit Repair Solutions and Support, please Contact Us at 203-528-0587 or email us at Support@CorporateCashCredit.com. For Media Relations, please Contact: Misty.Burrell@GrandTetonProfessionals.com.
KWs: build business credit quickly, build corporate credit