What is a
Paydex Score

and How Can I Achieve a High Score?

Businesses require credit on an ongoing basis. Borrowed funds can be employed to invest and expand operations in order to increase the size and profitability of the company. You might think that only firms with bad performance borrow money but the reality is that most of the successful corporations in the world need external funds to grow.

Certainly, funding can be a great idea when the firm has solid plans to allocate the money and make it productive. However, obtaining these funds may become somewhat challenging if lenders estimate your default risk is high. In general, interest rates and down payments increase as the borrower shows a poor credit history. If yours is not too favorable, lenders will simply conclude that such behavior will repeat in the future. That is why showing a low-risk profile becomes an important goal for companies looking for funds.

How can you measure a company's creditworthiness? In order to support an impartial judgment about how reliable a company is in terms of fulfilling its financial commitments, Dun & Bradstreet created the Paydex Score.

Dun & Bradstreet is a US company that has pioneered the provision of financial and commercial data related to millions of companies operating in hundreds of cities around the world. In the following article, we will explain what the Paydex Score actually is and how you can increase yours.
What is the Paydex Score?
The Paydex Score is an indicator of how well a company has fulfilled its obligations with its suppliers and lenders during the past year. This score measures the creditworthiness or, in other words, the timeliness of payments made to vendors and providers through a dollar-weighted formula. Larger invoices weigh heavier on the score than smaller ones. The score takes data from every payable account a firm had over the past 12 months and the number of days before or after the due date in which such payments were made. The due date is the result of the "agreed time". If the supplier proposes a net-30 credit and the client agrees, this denotes that all invoices should be fully paid within 30 days.
The result of a Paydex Score is always a positive number between 0 and 100 and the ranges are interpreted as follows: a score under 20 means payments come over 120 days past due; between 20 and 40 means they come 60-120 days past due; between 40 and 70 means 15-60 days past due; an 80 score means they come perfectly on terms; and a score between 80 and 100 means the company pays 1 – 30 days sooner than terms. The shorter the time between the agreed time and the date of the disbursement the higher the Paydex Score.
Lenders and suppliers prefer clients with a high Paydex Score, usually a number over 75. This indicates that payments are made almost always on time and, when delayed, the days past due are few.
If you are interested in knowing your business' Paydex Score, you have to obtain your Data Universal Numbering System or DUNS as the first step. This is a nine-digit code given by Dun & Bradstreet that will belong only to your company. You can apply for the DUNS through the company's website. Every DUNS indicates a unique number. The DUNS numbers are widely used in the business world as a business' unique identifier, especially in the United States. Moreover, it is currently a kind of standard identification thanks to the size and quality of Dun & Bradstreet's database, in which a broad range of company information is available.
Secondly, you must have open trade lines in order to build data related to your credits. Finally, the index will be calculated, and it will be available for companies interested in looking at your score.
In case your resulting Paydex Score is not as good as you want, you would need to make a plan to improve it. Definitely, making efforts to have a Paydex Score over 75 is an appropriate strategy before looking for borrowed funds.
How could you achieve a higher Paydex Score?
Here are a few practical tips to increase your Paydex Score: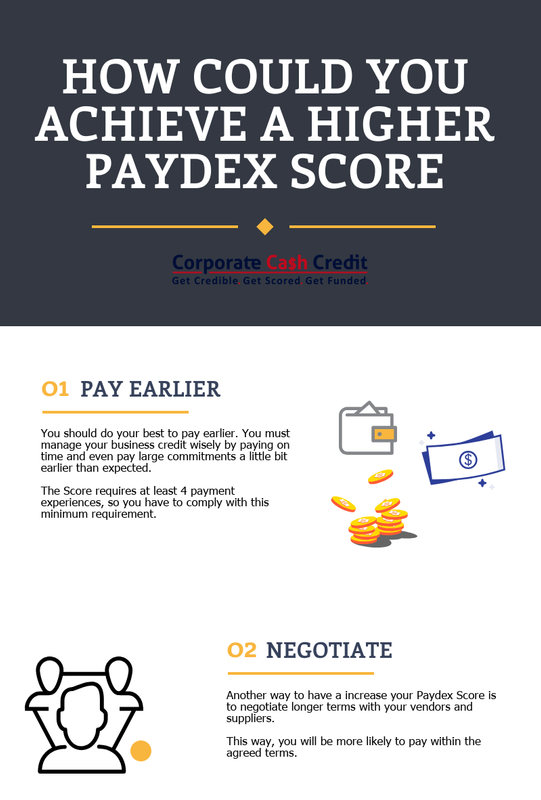 NO.1.

  You should do your Best to Pay Earlier:
You must manage your business credit wisely by paying on time and even pay large commitments a little bit earlier than expected.
The Score requires at least 4 payment experiences, so you have to comply with this minimum requirement. If obtaining this number of experiences will be hard for your company due to its size or its business model, you can use a business credit card to generate enough data that will be reported and incorporated on your score.
NO.2.

  Another way to Increase your Paydex Score is to Negotiate Longer Terms with Your Vendors and Suppliers:
This way, you will be more likely to pay within the agreed terms.
Maybe you think that those recommendations are nice, but you want to obtain a higher Paydex Score very soon because you need funds urgently.
In that case, those advices are far from being a real solution.
If this is your situation, you can benefit from our services at CorporateCashCredit.com. Our service aims to boost your business' credibility in order to get a higher Paydex Score, so you can get funded EASILY.
During the 45-day process of obtaining your 80 Paydex on Dun & Bradstreet, we will help you make 4 or more credit payment experiences that will help you in achieving an 80 Paydex Score. We will create charges for you to pay off before their due dates, so you can become credible in the eyes of lenders. Once your payments are reported and your Paydex exceeds 80, we can help you get funded through our network of allied lenders who are ready to work with all of our clients.
APPLY NOW for a free credit analysis and give us the opportunity to help you!
Get credible, get scored, and GET FUNDED at CorporateCashCredit.com.