What To do Before You Apply for

Business Credit
It's important to properly establish business credit before you submit applications with lenders. Although unsecured business credit doesn't require a co-signer or collateral, it's still vital that you build up your corporate credit rating before applying for small business loans. Doing so helps in at least two main ways:
It allows you to maintain a credit history that is separate from your personal credit report.
It demonstrates a favorable separation between the business owners and the business itself.
When you build business credit quickly, you can enjoy the benefits of having a creditworthy enterprise without doing damage to your personal credit rating. Sometimes, finding the money to maintain and/or expand your business is difficult. Those who don't have adequate corporate credit usually end up using their own money to suffice.
By having a business credit history that remains separated from your personal one, you thereby minimize the effect of any negative marks that one may have on the other. For instance, if you suffer a few financial setbacks on your personal credit report, they won't impact your business credit as much if you have established a clear line between the two. The same is true about your business credit, as it won't affect your personal report nearly as much if your business credit has already been well established.
There is an exception to the rule, however. If you're operating the business under sole proprietorship or a general partnership, it's essential that you demonstrate a separation between personal and business credit. Small business loans are difficult to come by when one or more of the sole proprietors is failing with their personal finances. Before you apply for business credit from any lender, consider using a business credit building program.
Keep your protective measure intact by consistently showing a clear separation between owners' credit history and business credit history. Incorporated businesses and limited liability companies (LLCs) provide business owners with a form of protection for their personal assets. A good business credit building program can help you incorporate properly before the two reports get mixed.
6 Steps to Building Business Credit Quickly:
There are several benefits to having good business credit aside from the ability to keep your personal credit separated. Favorable credit positions your company for better payment terms and lower interest rates on small business loans and corporate credit cards. It makes your company look more attractive to vendors and suppliers as well, reducing the number of times you need to repay for the goods and services required.
Once your good business credit has been built, be sure to monitor and protect it in the same way that you monitor and protect your personal credit. If getting a corporate credit card sounds like a good fit for your business, be sure to build business credit quickly to get the best deals. If you're like many business owners and don't know where to start, consider the following steps before you apply for secured or unsecured business credit: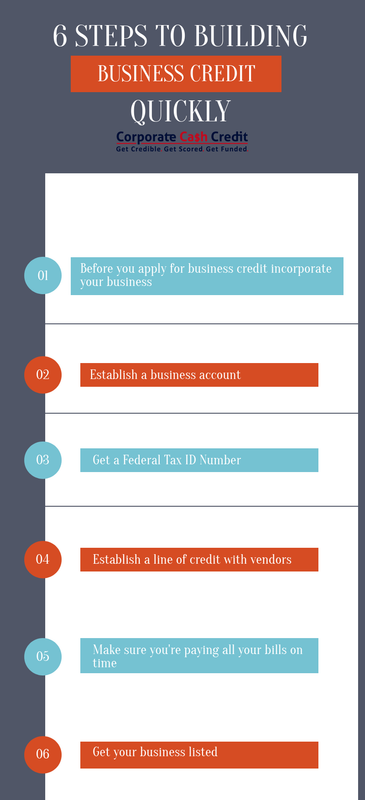 1.Before You Apply For Business Credit Incorporate Your Business:
With sole proprietorships and general partnerships, the owner is legally the same as the business. Unfortunately, this can make credit history separation impossible and make it very difficult to build business credit quickly enough to operate the venture properly. By incorporating the business or by forming a simple LLC, it creates a business that is legally separated from the owners and makes it easier to apply for business credit. The best business credit building program can help you incorporate properly and in a timely manner.
2. Before You Apply For Business Credit Establish a Business Bank Account:
Opening a bank account that's strictly for business expenses and income is important, just make sure it is opened with your business's legal name. Once open, be sure to pay the financial obligations of your business from that account exclusively and never mix up your personal and business accounts. If you use an unsecured business credit card to pay for things related to your company, pay the bill using that account only. Keep records of your expenditures and deposits for tax purposes.
3. Before You Apply For Business Credit Get a Federal Tax ID Number (EIN):
An EIN (or employer identification number) is basically just a social security number for your business. It's required for all tax filings and is also needed to open a business bank account, especially if you've incorporated or formed an LLC. To properly comply with IRS mandates, most larger businesses need an EIN from their vendors to pay for goods and services. Furthermore, an EIN makes you look more established to potential creditors as well, not to mention it helps you build business credit quickly by instantly separating your personal credit report from your corporate one.
4. Before You Apply For Business Credit Establish a Line of Credit with Vendors:
When you work with at least 3 to 5 vendors to supply your business with its necessary accouterments, it creates credit for your company. However, when you create a line of credit for your company through a few of those vendors, it expedites the credit building process tremendously. Just make sure you pay bills in full and on time and see to it that each vendor reports your payments to the credit reporting agencies.
5. Before You Apply For Business Make Sure You Are Paying ALL Your Bills on Time:
Paying your bills in a timely manner is one of the best ways to boost your business credit scores quickly. Like your personal credit profile, late payments will negatively impact your business creditworthiness and make it difficult to get financing. On-time payments over a long period of time can increase your credit scores significantly.
However, if you fall on hard times, apply for business credit before you default on bills to protect the integrity of your enterprise. If your business is not in the position to get approved for small business loans, consider purchasing a credit-ready aged corporation to improve your chances and increase the amount of money you can get.
6. Before You Apply For Business Credit Get Your Business Listed:
Having a legitimate, working business phone number and/or website is a good way to gain trust through market transparency. Whether you use a landline, cell phone, or VoIP, maintain a separate number for your business and get it listed under your business's legal name. Have that number listed in a directory as well, and don't forget about Yelp, Google, Bing, and other popular search engines that will make your business more easily located and increase its reputation with customers, creditors, and vendors.
The Final Verdict
To build business credit quickly and get approved for small business loans and other forms of unsecured business credit, look for a business credit building program that walks you through all the steps listed above.
This article is for Grand Teton Professionals for Corporate Cash Credit. For Credit Repair Solutions and Support, please Contact Us at 203-528-0587 or email us at Support@CorporateCashCredit.com. For Media Relations, please Contact: Misty.Burrell@GrandTetonProfessionals.com.
Keywords: build business credit quickly, apply for business credit, business credit building program, unsecured business credit, small business loans